Submitted By: Christine Calhoun on March 31st, 2011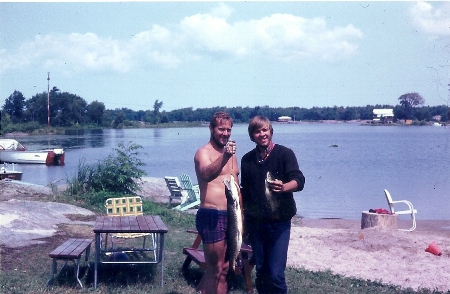 TELL US WHY YOUR TOWN IS WFN'S ULTIMATE FISHING TOWN?

As a child, I spent my years at our family cottage. Life was carefree and my brother and I spent time
venturing to many islands and travelling the waters around Honey Harbour.
The fish were plentiful and the sunsets were amazing!
I have fond memories of providing my dad with numerous rock bass sandwiches.
All of which were caught, cleaned and cooked by me.
How lucky we were to spend our summers in the fresh air, on one of the most scenic waterways
with all those fish. The picture is of my dad and my brother many years ago.

HOW WOULD YOUR TOWN BENEFIT FROM A $25,000 DONATION?
WHAT CAUSE(S) DO YOU THINK THE MONEY SHOULD GO TOWARDS?

Honey Harbour is a beautiful, little seasonal town. It is very busy in the summer. Winter is very harsh
and there are always lots of repairs to be made both on the water and on land.
There are community celebrations which take place throughout the year,
such as Canada Day and a Winter Festival .The Public Library "yard" seems to host many events.
There is need for money to improve "gathering" venues in Honey Harbour.
Perhaps a BIA could be formed to share ideas?